La storia di Rich Clifford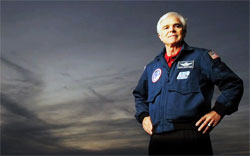 One giant leap for people with Parkinson's
"You've got Parkinson's disease. But I've got to prove to NASA that it's not something worse."
Those were the doctor's words uttered to ex-astronaut, Rich Clifford, after his second flight into space, condemning him to early retirement – or so he thought. "What could be worse?" he recounted in an interview with KGW-TV. "I've got a movement disorder now and it's going be the end of my career."
Clifford had already achieved more than most in his life. NASA astronaut qualification is notoriously strict, selective and competitive – something most people can only dream of.
Passing all the rigorous tests and requirements, his first mission was aboard the Space Shuttle Discovery in 1992 flying his second successful space mission two years later.
Yet for all his accomplished ambitions, Clifford's toughest challenge – Parkinson's disease – manifested itself before he was due to take his third mission to space, threatening to prematurely end his career.
In 1994, Clifford reported some trouble with his shoulder to his doctor.
"I noticed something was wrong after my second flight – and it didn't have anything to do with flying.
"I just thought it was something small, maybe. Just give me a shot, a pill or something," he recalls. Clifford took the brave decision to keep his Parkinson's diagnosis a secret from nearly everyone he knew for the next 15 years and went on to complete his third and final flight in 1996.
Now aged 62 and many years after retiring from NASA, Clifford remains adamant that if he could, he would fly into space once again. "I'd like to go up to the space station and do another spacewalk. The beauty of the earth up there is indescribable. You can see every colour in the universe and there's many more stars that you can see out there than here on earth," he said in the interview.
The neurologist who diagnosed Clifford later encouraged him to go public with his story and a documentary called "The Astronaut's Secret" has been made about his life.
"Keeping the secret was my way of coping with it I guess," Clifford admits in the trailer.
While his method of coping may be quite unusual, his extraordinary story is one of inspiration and defying the odds. Not even Parkinson's could prevent his dream of returning to space becoming a reality – proof for all people with Parkinson's that the sky really is the limit.